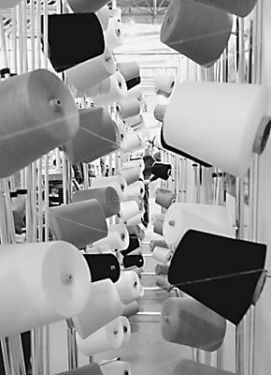 During the 12th Five-year Plan period, China must achieve a transformation from a "big clothing nation" to a "powerful country" and must support real big brands.
At the 19th China International Apparel and Accessories Expo, Young Cheng, Chairman of Youngor Group, brought 6 brands including YOUNGOR, MAYOR, GY, HartSchaffnerMarx, CEO, and Hanp to their debut, and enthusiastically showed attendees their new material "Hemp". Excellent quality.
Many people commented that this is the result of Li Chengru's "strengthening the main business of clothing again" after straightening out the real estate and investment business structures. Two years ago, he said, "We must transform Youngor's from the world's largest factory into a creative and creative art world" and include brand value creation and promotion in the brand development plan.
For the Chinese textile industry with a production value of over 4 trillion yuan, this ideal of Youngor is, in fact, the direction of many enterprises.
Beautiful data after the dilemma

The data of China's textile industry in 2010 was bright and surprising. According to the China National Textile and Apparel Industry Association, in 2010 the output value of enterprises above designated size in China's textile industry exceeded 4 trillion yuan, exports exceeded 200 billion US dollars, profits exceeded 200 billion yuan, and profits increased by 40%.
However, behind the data, there is still a big but not strong status quo: In the existing textile enterprises, most of them are brand-named and OEM-based. Their own brands account for only about 10%. The Chinese textile industry is still in the global industrial chain. At the stage of processing and manufacturing, the mode of growth is still mainly extensive, lack of innovation capability, lack of internationally-renowned brands, and low value-added products.
Especially in 2011 when high costs, exchange rate fluctuations increased, and the world economic situation was still full of uncertainties, the pressure on the development of the textile industry was even higher than before. To this point, Wang Tiankai, vice president of the China National Textile and Apparel Council, has a sober understanding. He analyzed that, first of all, the rapid rise in raw material prices, especially the price of major textile raw materials such as cotton and chemical fiber continued to rise, and even experienced severe fluctuations, which had an adverse effect on the production and operation of enterprises. Second, there are tensions in corporate liquidity. In addition, in recent years, China's textile industry has experienced periodical and seasonal "labor shortages."
"All these have put forward more urgent requirements for the textile industry to accelerate the transformation from traditional labor-intensive industries to quality-effectiveness and innovative industries," said Wang Tiankai.
Strengthen your own branding

For textile companies, Wang Tiankai's fears have become the status quo that they urgently need to change. Many companies have chosen branding to solve the problem. This is also a consensus in the industry. During the "12th Five-Year Plan" period, China must achieve a transformation from a "big clothing country" to a "garment-powerful country" and must support real big brands.
Younger, who is known for having a vertical industrial chain from cotton fields to the market, began to create a "second industrial chain" in the industry to create brand culture after the financial crisis and established six brand studios, not only responsible for brand promotion. It is also responsible for design, development, manufacturing, and logistics.
"Brand innovation is not just a product design, but a cultural and creative industrial chain from fabrics and accessories to design, craftsmanship, and even channel construction." Li Rucheng said that Youngor has a good foundation on the road to brand building and continues to do it. Strong brands and the creation of a "second industry chain" are crucial for companies and the industry to change their mode of development as soon as possible.
This is the same as the strategic thinking of "Exiting Garment Out of Garment" proposed by Lilang CEO Wang Liangxing. In this year's service expo, Wang Liangxing said: The new strategy focuses on the cultural improvement of the brand. It is necessary to inject the connotation of art, creativity, history, and culture into the clothing and to use the clothing as an artwork.
At the same time, in addition to hard training, mergers and acquisitions have also become a way for companies to complement each other's strengths and leverage.
On March 29th, Septwolves announced that they formally acquired 100% equity of Hangzhou Kenna Garments Co., Ltd., an international brand agent, for 70 million yuan. Hangzhou Kenner currently has the right to distribute the brands of the world's top clothing brands Connery, Versace and the world-famous jewelry brand George Jason.
Zhou Shaoxiong, chairman of the Septwolves, once said that the acquisition of Hangzhou Kennametal will not only help the seven wolves get involved in the Chinese luxury goods market with great potential, but also participate in the operation of internationally renowned brands and absorb international brand names in product design, organization orders, terminal management, etc. Advanced experience to improve the overall management of the seven wolves.
This acquisition was well received by the industry. As early as January 2008, Youngor completed the acquisition of two subsidiaries of the KELLWOOD company, New Malaysia and SMART, for 120 million US dollars. It also became a major hot spot in the apparel industry. The economist Lang Xianping once analyzed the benefits of this merger to Youngor: "The business level between Xinma and SMART is higher than that of Youngor. The design center in Hong Kong has more than 20 brands of ODM business including POLO and CK. Rather than purely OEM OEMs, the two companies have production sites in Southeast Asia, where 90% of New Malaysian and SMART garments are sold in the United States, with annual sales of US$500 million, and they have accumulated years of marketing in the United States as a subsidiary of KEELWOOD. The channel and logistics distribution system can meet the sales requirements of zero inventory, as well as sales outlets and distribution channels for hundreds of U.S. department stores, all of which Youngor would not have expected. Through this acquisition, Youngor's overseas production was enhanced. And sales capabilities."
To improve the level of science and technology as "competitive weapon"

The level of sewing technical equipment in the garment industry in China has reached the international level, but the level of apparel technology is still relatively low in the world. Du Yuzhou, president of the China Textile Industry Association, once pointed out that in order to achieve the transition from a big textile and garments country to a textile and apparel powerhouse in the next decade, we must first become a leading nation in textile and apparel technology and have a strong independent research and development capability.
Daibu Shi Enterprise Co., Ltd. from Taiwan, China, introduced "Knitting + Denim", which is called an epoch-making combination: the most durable knit with the most durable knitwear, allowing consumers to challenge their body and change. The idea of ​​jeans - even wearing jeans, you can do yoga.
Jinding United Technologies Fiber Co., Ltd. uses special manufacturing methods to manufacture metal fibers; Redbaby (China) Co., Ltd. uses a large number of high-tech green environmental protection natural cotton fabrics to manufacture comfortable children's clothing; Hunan Golden Eagle Apparel Group Co., Ltd. introduces infrared automatic heating technology , so that clothing can keep the warmth of the wearer's body in a special environment?
Youngor also displayed high-profile technological innovations in the research and development of apparel fabrics at this year's Expo. Although in the past three years, Youngor has filed a number of patents such as "water soft cotton" and "new cotton", but there is never a piece of fabric that makes Li Chengru so praiseworthy. "Not only for Youngor, but also for the entire industry. breakthrough".
This fabric is called "Hannah." In fact, hemp is **, after the detoxification treatment, has a unique "antibacterial, anti-ultraviolet, comfortable and breathable performance," known as human "second skin." Currently in the global apparel industry, "Han Ma" fabric is exclusive to Youngor. The "Hanma Family", a clothing brand launched with "Hannah" as its raw material, entered the market and achieved remarkable sales performance. It is understood that Youngor plans to open 50 families of Han Ma family life, and gradually to the European, American, Japanese market and high-end market in China.
Causual Wear,Casual Wear For Women,Casual Wear For Men,Casual Suit
Shijiazhuang Damei Co., Ltd. , http://www.dameijacket.com