Qin Hailu attended the opening ceremony of the global flagship store of Italian jewelry brand DAMIANI Montenapoleone Milan On the afternoon of February 16, Milan local time, Qin Hailu attended the opening of the global flagship store of the top Italian jewelry brand DAMIANI as the only Chinese female star. As the largest jeweler in Italy, DAMIANI will officially enter the Chinese market this year. Guido Damiani, Giorgio Damiani and Silvia Damiani, the third generation descendants of the family, invited Qin Haalu to attend the ceremony. On the day of the event, as the only star invited to this event, Qin Hailu's rose-colored skirt with the Chakra collection of jewelry worth over 10 million yuan is the perfect combination of oriental style and European design. Guido Damiani, President of the Group, said that after the Golden Horse actress Qin Hailu is an award-winning performing arts star, DAMIANI is also the only pure hand-made top-level producer in the world who has won 18 "Oscar Diamond Design Awards" Jewelry brand. She has the dedication and elegance is very much in line with the brand value. The full appearance of the family of high-level brand for Qin Hai Lu elegant personality without losing the temperament greatly appreciated, saying that the perfect interpretation of the Dai Mei Ya brand spirit. DAMIANI, founded in 1924, inherits the third generation which has been in operation for a long time. Its birthplace is Valenza with the reputation of "jeweler's shrine." Its rich resources are from generation to generation The unique craftsmanship and craftsmen rigorous work attitude so that many jewelry brands are more willing to choose a local workshop to cooperate. In contrast to these brands, DAMIANI is unique in that the brand has exclusive jewelery workshops in Valenza, whether it is design, mold making, or polishing, inlaying, jewelery making each Links can be completed independently, not the hands of others, can be described as a real jeweler. And as Italy's premier jewelry brand, DAMIANI is renowned worldwide for its craftsmanship excellence and the elegant style of Made in Italy. Each piece of jewelry brand jewelry by virtue of its highly representative design, advanced materials, superb craftsmanship, as well as the feelings of the deep emotional resonance and so loved by the taste of people. Whether it is simple and elegant, or modern and modern, jewelry artisans superb artistic talents in a piece of luxury jewelry to reflect, it is also their infinite passion, strict control of the process, the selection of materials, and Focus on the details of a piece of exquisite, handed down the jewelry. The brand's flagship store, located in the center of the Montenapoleone, the most prestigious shopping street in Milan, was enlarged and refurbished in 2011 and officially opened on February 16, 2012. New store on two floors, covers an area of ​​more than 500 square meters, the design inspired by the Mediterranean warm sea and sunshine of gold, natural color and bronze, sensual and soft
Boat shoes, also known as deck shoes or top siders, have been popular casual footwear for men for decades. The original design inspiration for these shoes is believed to have been the American Indian moccasin , with its water-resistant hide, low profile and side lacing. Originally, boat shoes were meant to be worn while walking on the slippery deck of a boat. The leather uppers are treated with a water-repellent oil, and special non-skid rubber soles give the shoes adequate traction. The low profile, similar to that of a slipper or loafer, makes it easier to get in and out of the shoes quickly.
Boat shoes (also known as deck shoes) are typically canvas or leather with non-marking rubber soles designed for use on a boat. A siping pattern is cut into the soles to provide grip on a wet deck; the leather construction, along with the application of oil, is designed to repel water; and the stitching is highly durable. Boat shoes are traditionally worn without socks.
History
Modern boat shoes were invented in 1935 by American Paul A. Sperry of New Haven, Connecticut after noticing his dog's ability to run easily over ice without slipping. Using a knife, he cut siping into his shoes' soles, inspiring a shoe perfect for boating and a company called Sperry Top-Sider. Sperry Top-Siders are still a popular brand of boat shoe today, among many others, including Sebago and Timberland.
Boat shoes are used by sailors, as the name suggests; however, since the 1970s they have become casual footwear in coastal areas of the United States, Canada, Argentina, Australia, China, France, Italy, Portugal, Spain, and the United Kingdom. Some boat shoes today have traditional white, non-marking soles, though many others today have dark non-marking soles. They usually have a moc-toe (like a moccasin) construction.
In the 1980s through to the early 1990s, and returning in the late 2000s, boat shoes were worn with everyday and dressy wear alike by both boys and girls and men and women. Besides being worn by themselves, many children and adults wear them with socks, especially low-cut, ankle socks and crew in white and many other bright neon and pastel colors. Many schools with uniform requirements allow boat shoes as acceptable uniform shoes.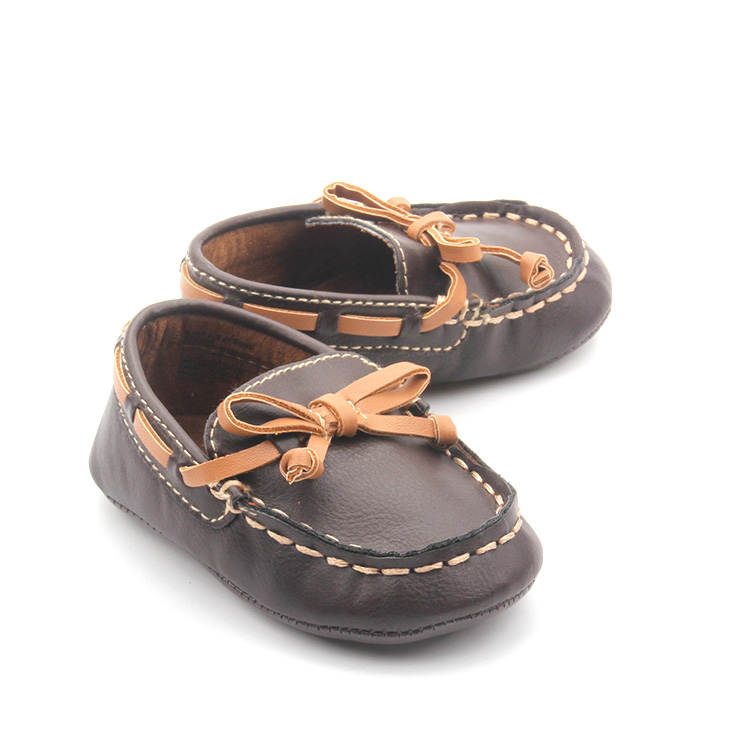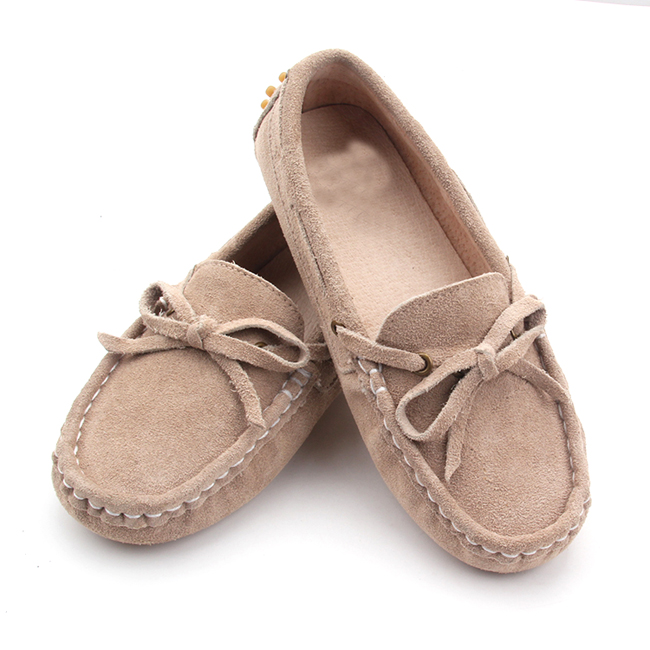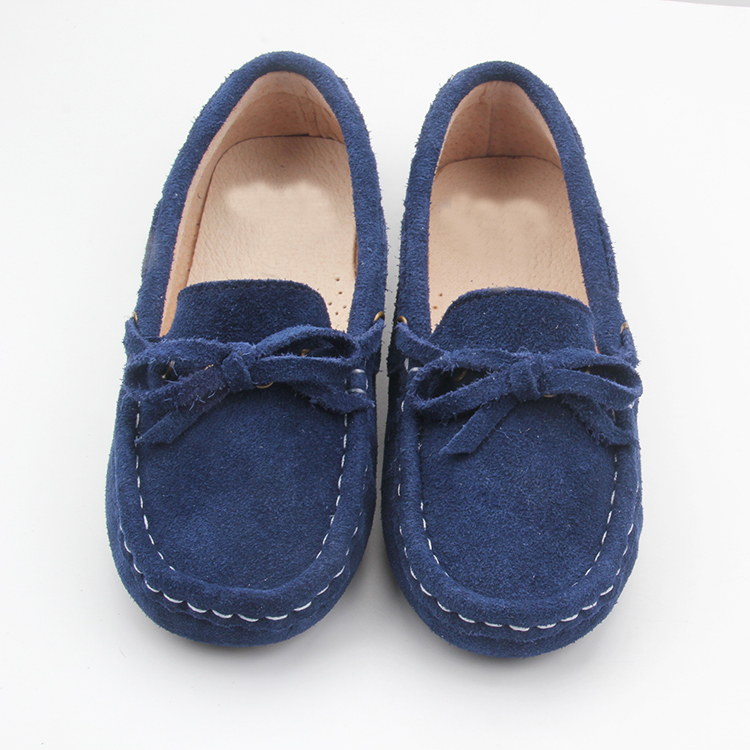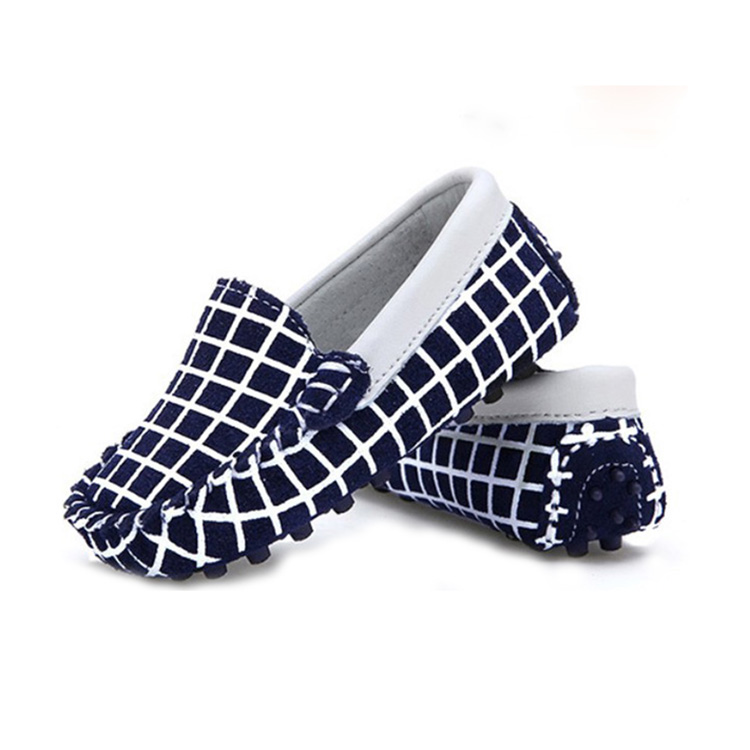 Baby Boat Shoes,Navy Boat Leather Baby Shoe,Boat Loafer Baby Shoes,Handmade Baby Boat Shoes
Shenzhen Baby Happy Industrial Co.,LTD , http://www.babyshoes.cc