With the advent of the micro-era, many well-known companies such as Coca-Cola, Lenovo and BMW have seized the characteristics of the times and launched a theme activity related to "micro". Recently, the "Creating Micro Life" network solicitation contest initiated by the well-known children's brand ABC http://abc.twabc.com.cn/ has attracted much attention from the industry and has received strong support from many netizens.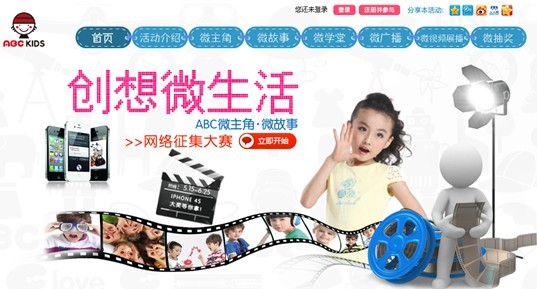 May 15 is the annual International Family Day. Many parents will choose to take their children with them or take time out to accompany them, hoping to enjoy their family. Coincidentally, the ABC "Creation Micro Life" network solicitation contest was also opened on the 15th, which undoubtedly became the parents' first choice. It is understood that as long as the protagonist meets the age limit of 0-13 years old, the parents can upload entries related to "creative micro life" (life photos, artistic photos, story scripts, videos). In addition to novel forms of activities and simple participation methods, its prizes are dazzling, including iphone4s, IPAD3, and Casio self-timer artifacts. And the most attractive thing is that the ultimate winner will have the opportunity to become the protagonist of ABC Microfilming. Making children "famous overnight" is no longer a dream!

At present, strengthening children's creativity has become an important lesson for children's education. Especially in Europe and the United States, both teachers and parents have been developing children's creative thinking and imagination as the top priority in educating their children. Take the example of the United States that advocates open-minded thinking. The school not only offers courses in art education, scientific research and development, but also advocates children's use of brains in daily life. In China, nowadays, many parents have begun to pay more attention to nurturing their children's innovative thinking. However, the excessive number of early education classes and training courses make children feel a bit unnecessarily. Experts point out that the ability to develop children's creative ideas focuses on teaching methods. Parents use divergence teaching methods to allow children to inspire in their free-spirited environment. The "creative micro life" activity organized by ABC is a good fit for the current situation of children's education. It aims to release children's unlimited imagination and creativity, and takes the real needs of children's growth as the starting point. It is reported that the activity has attracted the active participation of many parents soon after the launch. The scene is extremely hot. Many parents stated that apart from simple participation methods and a large number of lucky draws and prizes, the more important thing is that this activity is of great significance to the child's growth and it will draw a colorful picture in its growth record book.

It is reported that this year, ABC launched the stage promotion theme "Love Lets TA Create Ideas" under the brand idea of ​​"Because of Love". This activity was carried out based on this concept, and it was selected as ABC's "Moe Master" Network. The second wave of online events in the contest is an effective platform for enriching children's growth and releasing their imagination and imagination. Regarding the continuous warming up of ABC's "creative micro life" campaign, some well-known experts in the industry analyzed that the activity has two distinct advantages: First, the activity finds an excellent entry point—"micro life", micro as a new era The characteristics are changing people's attitudes and ways of life, bit by bit. Second, the activities provide a platform for many young parents to show their children, while stimulating the eyeballs and nerves with rich prizes. For the follow-up development of ABC's "creative micro life" activities, many people in the industry have expressed great expectations.

ABC keeps up with the pace of the times. Through pioneering and innovation, ABC organizes many activities that are beneficial to children's growth. They take practical actions to care for children's lives and to focus on children's growth. Today, the "Creating Micro Life" network solicitation contest is in hot start, what kind of new world will it present to the public? Let us wait and see!
Men's Classic Shirts,Men's Normal Shirts,Men's Dress Shirt,Long Sleeve Shirt
zhejiang tianjin import and export co.,ltd. , https://www.tianjintextile.com