Leading: It is formed by evenly arranging dots of the same size and the same color at a certain distance, referred to as 'wave point'. From 2009 Fashion Week to the latest collaboration between Louis Vuitton and Japanese artists, Kyo Noma Kusama, the wave has been red for several years.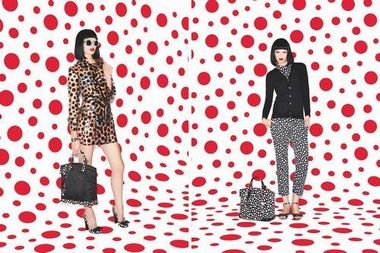 Louis Vuitton and Kusama cooperation funds
The term "Polka" was first coined from Poland and was a popular dance in the mid-19th century. Because for some time many of Polka's music covers were decorated with such dot patterns, hence the name Polka. The most popular scene of Polka dots was in the 50s of the last century. At that time, women loved to wear fluffy over-the-skirt skirts. Their black-white dots were the first choice for their color scheme. They were the first choice for them. They were relaxed, light and free. Polka dot base style later.
The wave point is a typical graphic of pop art. There is a saying that the big wave point symbolizes freedom and boldness, while the wavelet point represents the romance and elegance of French style. In recent years, Wave Point has become an important part of the fashion trend.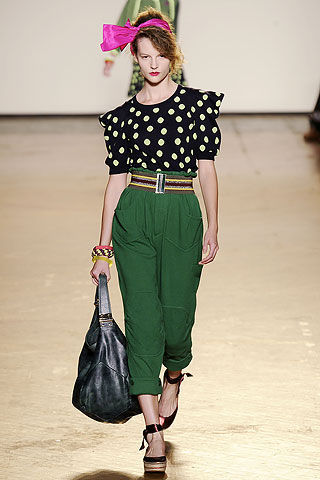 Marc Jacobs
Fashion Week 2009 spring and summer series that time, Polka dot set off the first wave. Numerous brands have launched wavepoint designs, among which are Dolce&Gabbana and Kawakubo. The next wave of the Spring/Summer 2011 series was still deeply loved. Marc Jacobs, Moschino, and Miu Miu all released designs with a wave pattern. In the spring and summer of 2012, the wave points are still visible.
Strictly speaking, a dot that is the same size and color can be called a wave point, but this is not absolute. Today, everyone has no clear distinction between the boundary between the wave point and the dot. The division is more free to use.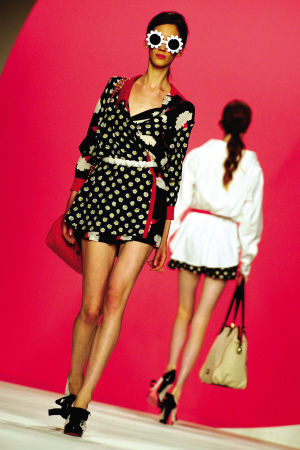 Moschino Cheap &Chic 2010 Spring Summer
Let us take a look at the changes in the waves in these years!
Spring and summer 2010 and 2011 wave points are still more rules. Moschino Cheap &Chic2010 spring and summer series in the dot pattern skirt, are the same size of the dots. In spring and summer of 2011, the wave points began to flex slowly, and there were different sizes quietly. Like the Tao Spring-Summer 2011 collection and the Tsumori Chisato 2011 Spring-Summer collection, the distance between waves is not as tightly controlled.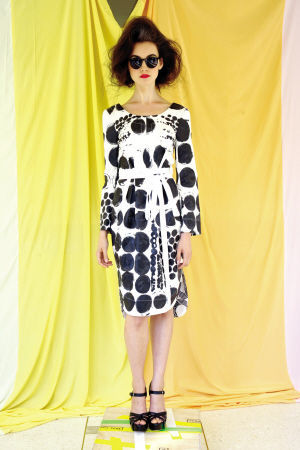 Chris Benz wave effect
However, by the spring and summer of 2012, the wave has become more lively.
Callula Lillibelle, who strictly follows the tradition and retro style, is not only small and small, but also has the same color. There are also dots like Chris Benz's splashes of ink, full of artistic effects. Marni's big dot pattern has no problem if it is a wave point, but it doesn't seem to be a wave point pattern in the traditional sense.
Jelly Candle is one of crafted candle,like Coffee Scented Candles, which process is:in every 100 ml liquid paraffin add 4, 12 g thermoplastic styrene-butadiene rubber, made from 30, 70 with butadiene styrene.After solidification is cellophane tape shape body, can irrigate in a different shape of transparent glass,is called Glass Candle,also dimensional named jelly candle.
Jelly candle same as Candle Sets , can be also put all kinds of ornaments, and a variety of colors, such as flowers, grasses, insects, fish, shell, pebbles, and small animals, etc., thus it can be made into many lifelike wax, jelly candle have greatly expanded the craft candle pattern varieties.
Jelly candle can be burned completely , no smoke during burning, combustion process and dies without peculiar smell.Jelly candles in the future is expected to continue to be one of the main varieties of the candle market.
Glass Candles,Crystal Glass Candle,Glass Jar Candle,Glass Candle,Candle Sets,Coffee Scented Candles
HEBEI GEMMY IMP.& EXP.CO.,LTD , https://www.hbgemmy.com