Some time ago, Hongxing Erke continued the concept of innovation, introduced the type of walking down feathers, and officially entered the field of casual wear, which attracted the attention of all parties. In this year's downturn in local sports brands, Hongxing Erke's innovation has undoubtedly brought new "out points".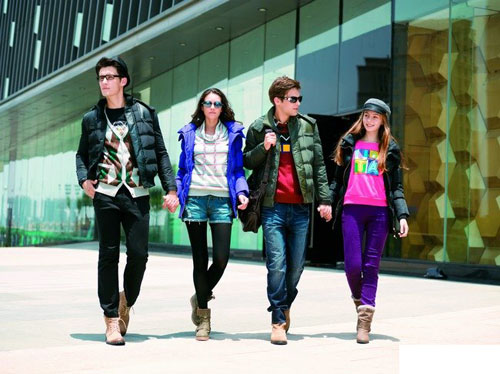 According to public statistics, in the first half of this year, the inventory of Li Ning, Anta, 361°, Xtep, Peak and Dongfeng's six well-known sports brands reached RMB 3.721 billion, an increase of RMB 22 million from the end of last year. The new high inventory level indicates that the growth rate of the industry is slowing down. Experts believe that the sports brand has entered the adjustment period, and innovation and change are urgently needed.

According to the survey, the major customers of the domestic sports brand (13 to 30 years old) generally have relatively vague brand image, and believe that domestic brands still have a big gap with adidas, Nike and other international famous brands in terms of style, design, and celebrity effects. Homogeneity is serious and brand recognition is low.

When domestic sports brands fell into the price war of inventory clearance, Hongxingerke continued its consistent innovation philosophy and sought innovation breakthroughs in product design and marketing techniques. Following the launch of the original celebrity product Micro-collar T in April and achieving a good market response, Hongxing Erke again launched a down jacket in October and pledged to "innovate to the end".

According to the brand's chief designer, as a star product, Hongxing Erke down jacket has three characteristics: "unique Asian version, perfect personal distance, cross-stitch material splicing."

Compared with the uniform version of the apparel market, the Asian version of innovation is based on the fact that most consumers wear warmth and fashion in winter, and based on research of Asian body shape data, they have skilfully taken down jackets and jackets. The advantages of the traditional European and American version of innovation, which is also the greatest value of the down jacket.

A perfect finger-to-width fit allows the down jacket to be warmer on a structured basis, with light and dark windbreaker cloth, imitation leather, woolen weave, polyester jacquard, and other cross-over interface material splicing, giving the product a three-dimensional appearance. Self-cultivation visual effects.

In terms of marketing innovation, Hongxing Erke is also undergoing changes. For the first time, it has launched nationwide terminal roadshows in the industry, and has attracted nearly a million netizens to participate in interactions through social media and online games, achieving online and offline connectivity.

Storylined, scenario-based promotional methods and interesting and interactive promotional content clearly make it easier for consumers to accept brand information. This is in line with the propaganda model of Li Ning, Anta, 361° and other brands who are keen on traditional television advertising and event sponsorship. Totally different.

When the industry is facing a crisis of high inventory, Hongxing Erke takes a static brake and "steps ahead" in the field of casual wear. The innovation of its product innovation and marketing methods is eye-catching. This also gives China in the "winter". The apparel industry has brought new hope for development.
1) A few drops of essential oil in your Diffuser Necklace locket can help you regulate the stress levels in your life better.
2) The aromatherapy oils in stainless steel diffuser necklace can help you to control your mood and feelings better.
3) An oil diffuser necklace or aromatherapy necklace can be worn anywhere and anytime with your essential oils.

ORDRM® has large collection of tree of life oil diffuser necklace. Our product are made from stainless steel with high polished finish. Available in PVD or IP gold, rose gold or black. OEM ODM customized service is available. Standard packing way is opp bag. Velvet pouch or jewelry box or customized packing is welcome too. Contact us get factory direct wholesale price now.
Diffuser Necklace
Diffuser Necklace,Essential Oil Necklace,Essential Oil Diffuser Necklace,Diffuser Aromatherapy Necklace
Dongguan Original Dream Jewelry Co.,Ltd , https://www.ordrm.com